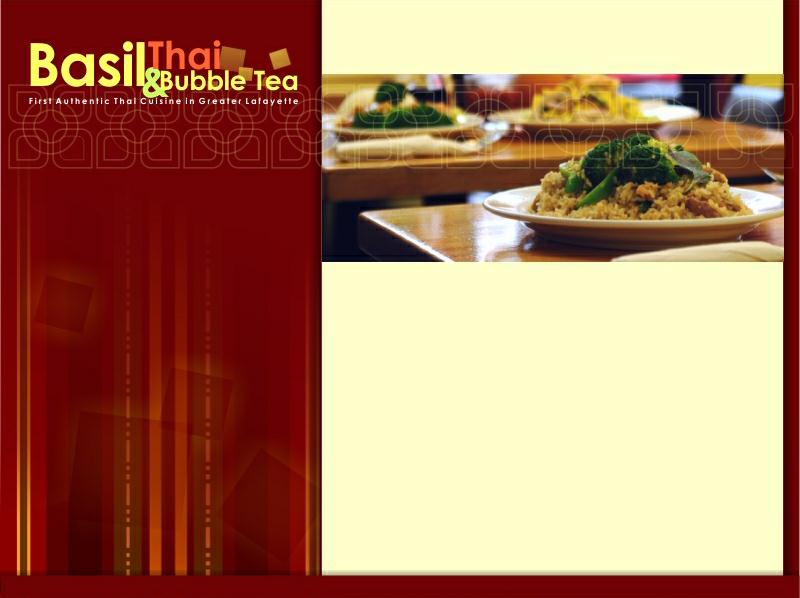 Journal & Courier's 2009 Reader's Choice Awards Winner "Best Thai"

Urbanspoon.com:
This restaurant has it all, autentic Thai food, efficient and friendly service, nice and warm environment, and very reasonable price.
read more
Yelp.com:
Best Thai restaurant in Indiana by far. Yes, you heard me! "the best in Indiana not just Lafayette". The food is well prepared and beautifully decorated. The taste of the food is very delicious and authentic. I have tasted a lot of Thai food in States and in Thailand before and this place offers a variety of dish that reminds me of the trip to Bangkok.
read more
Local.yahoo.com:
Good for dates, guests and or clients. Food: Excellent. Curry was great; perfect melody of coconut milk, spices, and body, vegetables were fresh and crisp, spices were hot but not overwhelming flavor.
read more
135 South Chauncey Ave Suite 2C West Lafayette, IN 47906 / Tel:(765) 743-3330 Fax:(765) 269-9381 www.basilthai.net

Basil Thai & Bubble Tea

Monday - Saturday 11:30AM-9:30PM

Sunday 12:00PM-9:00PM

(765) 743-3330